Summit Skin & Vein Care is a vein treatment clinic located in Lee's Summit, MO that offers a variety of services, including: Varicose Vein Treatment, Spider Vein Treatment, Treatment for Cosmetic Concerns, and evaluations of vein health. For 18 years, Summit Skin & Vein Care has been the top provider for vein treatments. Dedicated to ensuring the best customer service available, Summit Skin & Vein Care is excited to welcome Dr. Joe Baker and Nurse Practitioner Paige Medlin to the team of professionals providing care at the Lee's Summit location.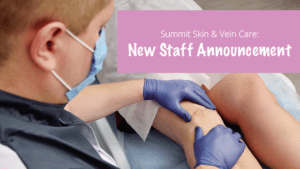 Dr. Joseph Baker, DO
Summit Skin & Vein Care prides itself on the combined knowledge and experience of its care providers, and ensuring that our clients are given accurate information, along with the best vein and skin care services available. That is why we are so happy to announce that Dr. Joseph Baker has joined our team at the Lee's Summit location. Dr. Baker comes to Summit Skin & Vein after 6 years with Vein Clinics of America based out of Overland Park, KS. Dr. Baker has been in family practice medicine for over 25 years and over 10 years of surgical practice. He is a Diplomate of the American Board of Venous & Lymphatic Medicine. He is also Board Certified in Family Medicine. Prior to joining the Summit Skin and Vein Care Team, he was a vein specialist in Overland Park, Kansas.
Paige Medlin RN, FNP-C
We are excited to welcome Paige Medlin to the team as a nurse practitioner. Paige attended Rockhurst University where she graduated with a Bachelor's Degree in Nursing, and then graduated from Research College of Nursing with her Masters of Science in Nursing, in 2022.
Paige worked as an ER nurse for 4 years before joining Summit Skin and Vein Care as a practitioner.
Our Mission:
We are very excited to have Dr. Baker and Paige Medlin join our team. Their added experience will enhance our clinic's ability to continue offering the best vein care services available in the Midwest. At Summit Skin & Vein Care, we are dedicated to spreading medically accurate information regarding vein and skin care. Our team has performed over 18,000 Endovenous Laser Ablations and over 22,500 Endovenous Chemical Ablations using the latest state-of-the-art equipment. You can rest assured that you are in good hands when you receive treatment of a vein disease at our vein clinic. If you're looking for more information, feel free to contact us and schedule your FREE Vein Screening in Lee's Summit!