At Summit Skin & Vein Care, we offer a variety of vein treatment services for venous disease, including varicose vein treatment and spider vein treatment. Our phlebologists provide vein treatments you can trust to get the results you want. Our experienced vein clinic team will help you improve your health, reduce the appearance of aging legs, and reduce leg pain caused by venous disease.
Want to learn more about our vein treatment services? Read more below, or schedule a Free Vein Screening today in the Lee's Summit and Kansas City area!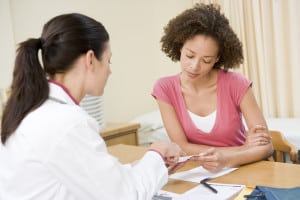 What are Varicose Veins?
Healthy veins have a closed valve, so blood flow only occurs in one direction. Varicose veins, however, allow for blood to flow in both directions, causing visible swelling and pain. Whether varicose veins are a concern for cosmetic reasons or pain and discomfort, most people seek treatment.
What causes varicose veins?
Your veins are constantly working against gravity to return blood to your heart, However, when the valves of your veins become weak or damaged, blood begins to flow in two directions, both towards and away from the heart. This causes blood to accumulate in the veins in small pools, which then leads to bulging, twisted, and stretched veins. There are several factors that can increase one's likelihood of developing varicose veins, including being a woman, aging, obesity, and pregnancy.
What are symptoms of varicose veins?
The twisted, enlarged varicose veins sometimes cause no pain and are only a cosmetic concern. These veins often appear a darker blue or purple with visible swelling. However, there are instances in which varicose veins can cause pain and discomfort.
Some of the painful symptoms include the following:
leg pain
restless legs
burning and itching sensations
discoloration of the skin
open sores or ulcers on the lower legs
Healthy veins have a closed valve, so blood flow only occurs in one direction. Varicose veins, however, allow for blood to flow in both directions. This causes visible swelling, which can ultimately lead to leg pain, restless legs, burning and itching sensations, discoloration of the skin, and even open sores or ulcers on the lower legs.
Our vein clinic offers several options for varicose vein treatment, including:
Endovenous Laser Treatment (CTEV™)
You can undergo this short but effective varicose vein treatment from the comfort of our Lee's Summit office. Using laser fiber technology and laser light, our venous disease specialists safely seal the veins. This procedure is 97-99% effective and you'll likely leave our vein clinic satisfied with the results.
Sclerotherapy
This varicose vein treatment is commonly referred to as "ultrasound-guided sclerotherapy." In this procedure, we seal under-the-surface veins that would otherwise require surgery. Often this option is preferable to surgery as it is less invasive.
Just as the name suggests, spider veins have an arachnid-like appearance. Spider veins can be much more than just a cosmetic nuisance; they can also cause leg pain. When treating spider veins, we often use sclerotherapy, which is the same procedure used to eradicate varicose veins, but we also use Laser Vein Therapy – Nd:YAG™.
Laser Therapy is a recommended spider vein treatment for deeper, hard-to-reach veins. This can be an effective option for those who have found other treatments to be ineffective.
Unsure if you qualify for our vein treatment services? Our unique facility provides free screenings prior to assigning a vein treatment plan. Our professionals will examine you to determine the best course of action to treat your venous disease and get rid of leg pain.
Contact our vein clinic online or call us at (816) 533-4398 to schedule an appointment.
Summit Skin & Vein Care is a vein treatment facility proudly serving the Kansas City, Raytown, Independence, Blue Springs, Harrisonville, Warrensburg, and the surrounding areas.