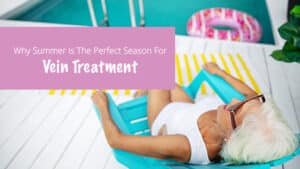 As summer begins, now is the perfect time to get rid of spider veins and varicose veins. With the warm weather, it's the opportune time to show off your legs without having to worry about unsightly veins. Summit Skin & Vein Care has vein specialists with the experience you need to treat your vein disease symptoms, delivering peace of mind, confidence and the chance to get a jump start on your summer tan! Not certain what the symptoms of vein diseases are and what to look for? Read on and give Summit Skin & Vein Care a call to discuss our cutting-edge treatment options available at our convenient Lee's Summit office.
Varicose and Spider Veins Symptoms
Varicose veins, spider veins, and other venous diseases are common conditions that affect millions of people worldwide. They are caused by a variety of factors including age, heredity, pregnancy, weight gain or loss, and standing for long periods of time. These conditions can cause pain and discomfort as well as an unattractive appearance. Varicose veins are swollen, twisted veins that appear most often on the legs and feet. They can be blue or dark purple in color and may bulge out from the skin's surface. Spider veins are a milder form of varicose veins and usually appear as thin red or blue lines on the skin.
Chronic Venous Insufficiency Symptoms
Venous diseases such as Chronic Venous Insufficiency (CVI) can lead to more serious symptoms including swelling in your legs, discoloration of your skin near your ankles, leg ulcers, and stasis dermatitis (inflammation caused by poor circulation). CVI is caused when blood escapes from damaged veins into surrounding tissue instead of being pumped back to your heart like it should be. If you experience any of these symptoms it is important to seek medical advice from a qualified vein specialist as soon as possible so that treatment options can be discussed with you.
Kansas City Vein Specialists
Summit Skin & Vein Care is based in Lees Summit, Kansas and specializes in spider vein treatment, and varicose vein treatment. We are also the top provider for all venous disease treatments in the Midwest. We offer a wide range of services including Sclerotherapy (injection therapy), Laser Vein Therapy–Nd:YAG™, and Endovenous Laser Ablation (EVLA) Treatment, and Endovenous Chemical Ablation (EVCA) Treatment. Each procedure is tailored to meet each patient's individual needs.
At Summit Skin & Vein Care, we offer comprehensive care for all types of vein diseases from diagnosis to treatment. Their team of experienced professionals will work with you to develop a personalized plan that meets your needs and goals. If you're looking for relief from spider veins or varicose veins this summer, then Summit Skin & Vein Care should be your first choice! With our expertise in vein care treatments and our commitment to providing excellent patient care, we'll make sure you get the best results possible. So don't wait any longer – contact them today for your FREE vein screening.