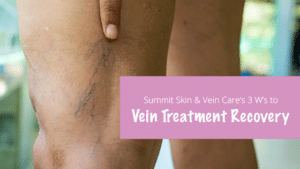 Vein treatments, such as Endovenous Laser Ablation (EVLA) Treatment, Endovenous Chemical Ablation (EVCA) Treatment, and Sclerotherapy are medical procedures used to treat vein diseases, such as varicose veins and spider veins. The goal of these treatments is to provide relief from the symptoms caused by these conditions, such as pain and swelling. While downtime from an EVLA, ECVA, or a Sclerotherapy procedure can be quick and patients often walk out the door the same day as the treatment is given, you may still have some minor discomfort. Here are a few effective methods that Summit Skin & Vein Care recommends using to reduce discomfort and improve recovery from vein treatments.
Wearing Compression
Compression socks are an essential part of recovering from a vein treatment procedure. They help to reduce swelling and discomfort, as well as promote faster healing. The size of the veins treated and how many veins were removed will determine the amount of time you should continue to wear compression stockings.
The pressure caused by compression socks helps to prevent spider veins or varicose veins that were removed during the procedure from recurring. In addition, it can also help patients see a gradual improvement in other veins that were treated. With consistent use of compression socks, you can rest assured that your legs will be healed quickly and effectively after your vein treatments.
Walking
After any type of procedure such as laser vein treatment, sclerotherapy, or EVCA, it is important to get the blood flowing throughout your body. In order to help this process along, walking can be a great way to keep the blood circulating, allowing for faster recovery and healing. When done correctly and in moderation, walking after a vein treatment has been known to reduce pain and swelling at the site of the procedure while improving the healing process.
By combining regular walking with proper rest after a varicose or spider vein treatment, you will be more likely to see optimal results with less discomfort than if you were to remain inactive after a procedure.
Water: How Staying Hydrated Helps
Staying hydrated is an important factor in recovering from vein treatments. Drinking water helps flush out any toxins and waste products that may have been released during the treatment. Keeping your body well hydrated helps regulate your body temperature, maintains normal bodily functions, and aids in healing. It can also reduce feelings of tiredness and sluggishness throughout the recovery process. To reap these benefits it's recommended to drink at least 8-10 glasses of water every day while recovering from vein treatments.
With vein treatment becoming increasingly common, simple and effective methods are important to minimize discomfort, promote healing and prevent future problems. Wearing quality compression stockings, taking regular walk breaks, and staying hydrated are all helpful strategies that can be utilized to improve recovery times and reduce short-term discomforts. Many of these techniques are applicable before, during, and after the vein treatments, empowering individuals to take an active role in their wellbeing.
The Summit Skin & Veins staff have the expertise to take care of any and all of your vein procedure needs. If you're looking for more information, feel free to contact us and schedule your FREE Vein Screening in Lee's Summit!