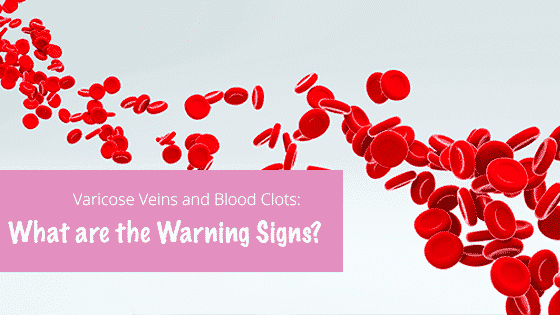 Did you know that varicose veins can be one of the signs of a serious health risk? Venous thromboembolism (VTE) is when a blood clot forms in your veins and can cause discomfort and pain. Varicose veins are not always connected to VTE, but there are some shared symptoms. We recommend being aware of the warning signs of VTE so that you can reach out to your doctor if you ever think you're at risk of a blood clot.
Varicose Veins and Blood Clots: What are the Warning Signs?
There are two main things you need to know to be on the lookout for blood clots: your risk factors and the warning signs. Risk factors indicate whether or not you're at a higher risk for developing VTE and knowing the warning signs can keep you informed, even if you're not as much at risk for developing a blood clot.
Who is at Risk for Blood Clots
If you recently got out of the hospital after surgery, or an extended stay, you could be at a higher risk for developing blood clots. During your stay, you may have been lying still for extended periods of time. This heightens your chances of developing a blood clot. Any long periods of immobility–including bed rest or extended travel–can weaken your veins and make you more susceptible to varicose veins and blood clots. The following are also high-risk cases for blood clots, though no one is completely immune:
The elderly
Recent injury or trauma
Being overweight or obese
Being pregnant or recently pregnant
Having a family history of venous disease
What are the Warning Signs of a Blood Clot
There are a few ways that blood clots can form in your veins. A blood clot is a mass that forms in the blood. These clots can develop in your arteries and lungs, but also your veins. If you notice any of these symptoms, it might be a warning sign that you have a blood clot:
Leg swelling
Tenderness or leg cramps
Breathlessness
Lightheaded
Chest pain or back pain when breathing
Leg discoloration – red or blue in hue
Racing heart
There's no better solution for varicose veins than consulting a vein specialist. If you're developing varicose veins, it's time to give Summit Skin & Vein Care a call. Contact us today to set up a FREE color duplex ultrasound scan! Our specialists will be happy to discuss your varicose vein treatment options with you.