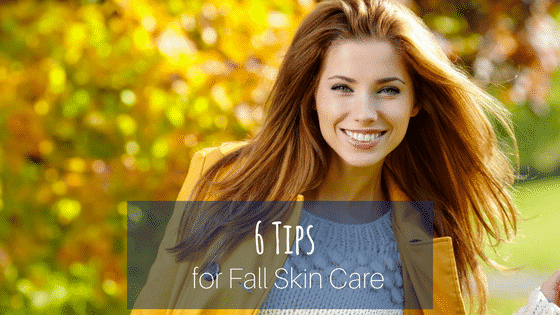 Summer has finally come to a close, and your skin likely shows it. Because fall is a time of transition for our skin and bodies, the best fall skin care regimens will correct any summer damage that has occurred, and help prepare your skin for winter. Sun, chlorine, and even harsh temperatures may have taken a toll on your skin throughout the summer, so autumn is a great time to exfoliate and moisturize on a regular basis.
Maintain vibrant, healthy skin:
Ditch the soap. Fragrant soapy scrubs might feel (and smell) wonderful, but they often leave your skin dry. With the arrival of fall, switch to a hydrating cleanser. Look for moisturizing, creamy products that will make your skin softer quickly.
Exfoliate with an oil-based scrub. The summer sun and chlorine may have left your skin feeling brittle and dry. Start the new season off with a full-body exfoliation session. Oil-based scrubs are wonderful because they exfoliate and hydrate your skin.
Switch from body lotion to body cream. As the air becomes drier, your skin needs a thick moisturizer. Creams provide a stronger barrier than lotions, which means they both reduce water loss from the skin's outer layer and provide hydration at the same time.
Protect your lips. Start moisturizing now to prevent dry, cracked lips this winter. Use a non-petroleum based lip balm for best results.
Stock up on hand cream. Hands often become dry and cracked during fall and winter. An ounce of prevention really is worth a pound of cure. Start moisturizing your hands now to ensure soft, supple hands all winter long.
Consider a Chemical Peel or Microdermabrasion. A chemical peel gently exfoliates the dead cell layers to reveal a healthy vibrant glow. Blood flow increases, stimulating collagen and elastin production. This process helps to keep the skin looking young. Microdermabrasion exfoliates the topmost layer of skin, leaving it more supple and vibrant by promoting the growth of healthy new skin cells. Getting a microdermabrasion also stimulates the elastic tissue beneath the surface of the skin, resulting in a healthier and firmer appearance. Summit Skin and Vein Care offers both services just southeast of the Kansas City metropolitan area in Lee's Summit.
Contact the experts at Summit Skin and Vein Care for more tips on caring for your skin.