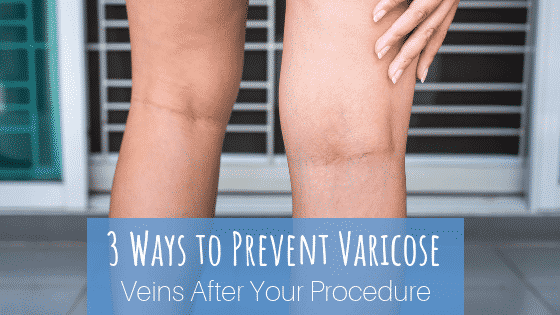 So you made the decision to treat your varicose veins with laser therapy! You may know the tricks for relaxing and preparing for your procedure beforehand, but what about after? What can you do to take care of yourself so that varicose veins don't make an unwelcome reappearance? 
Preventing the Return of Varicose Veins
There are preventative measures you can take to help keep vein disease from recurring in your life.
Find a doctor you can trust
A qualified vein specialist will not only your best option for any therapy but will also guide you through the recovery process. You'll want to find someone who will work with you through your treatment and for the months to follow, guiding you through the steps for healthy veins.
Make healthy life choices
You'll probably regularly hear from your doctor that a sedentary lifestyle is one of the worst things you can do for varicose veins. If you want to prevent vein disease from coming back after your procedure, avoid negative habits like smoking, overeating, and avoiding exercise. You and your doctor can work together to create a plan that will prioritize a healthy lifestyle and keep your veins strong.
Attend screenings regularly
You probably had a screening before your procedure so that your doctor could determine the exact cause behind vein problems and recommend the best treatment. After your procedure, you want to make sure you keep up with screenings so that you can be sure your veins are staying healthy and that they are healing properly.
Trust the vein experts in Lee's Summit
Working with a dedicated vein specialist like Summit Skin & Vein Care will help you maintain vein healthy after your procedure. When you make healthy decisions after your procedure, your veins will thank you!
Summit Skin & Vein Care in Lee's Summit, MO, can diagnose your venous problems and provide professional treatments to treat and diminish the appearance of varicose veins.