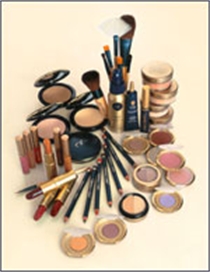 The most beautiful cosmetic you can wear is healthy skin. That's why everything Jane Iredale develops is an extension of skin care.
This one-of-a-kind mineral makeup is not just a refinement of normal makeup; it is a new technology. In fact, it is so effective that physicians and skin care professionals recommend it — our Lee's Summit, Missouri, skin care facility is no exception.
At last, there is a mineral makeup that is good for your skin!
What makes this mineral makeup so special? — Jane is going green! The new pure-pressed powder compacts are made from anodized aluminum, which releases few toxins into the environment, uses almost no heavy materials, and uses chemicals and metals that are recycled easily. This new design accommodates refills to help further reduce environmental waste. The refills are packaged in plastic clamshells, manufactured from 100% recycled "post-consumer" material. Also, to help further reduce their environmental impact, the designers of this mineral makeup product have eliminated the cloth pouch, which used to hold the compact. In return, you, the consumer, receives the benefits and the savings!
Our Jane Iredale® Products
Are 100% pure minerals
Are preservative free (Paraben)
Are natural sunscreens
Are composed of inert minerals that cannot support bacteria
Contain no fillers, like talc
Present virtually no allergy risk as they are completely free of sensitizers like perfumes, chemical dyes, and preservatives
Are anti-inflammatory and help to calm and soothe irritated skin
Provide broad-spectrum UVA and UVB protection as high as SPF 20
Provide complete coverage for skin conditions, such as acne and rosacea/redness
Are non-comedogenic, so it will not block pores
Are very water-resistant, as rated by the FDA
Are not tested on animals
Improve Your Skin Now!
With everything to gain and nothing to lose, these mineral makeup products are an absolute must for anyone who enjoys beauty products that promote healthy, radiant skin and eco-friendly products.
To learn how you can make your mineral makeup purchase today, contact our Lee's Summit, Missouri, skin care facility by calling (816) 533-4398.
Proudly serving the Lee's Summit, Missouri, and greater Kansas City communities.