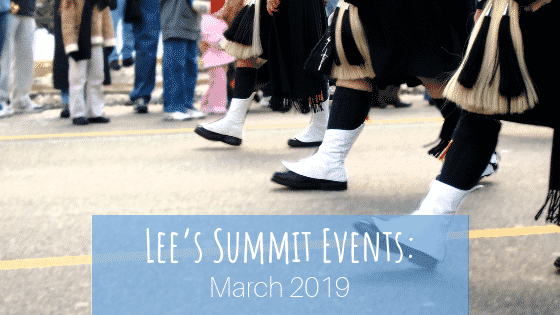 Raise your hand if you're ready for spring! If this winter has felt too long for you, there are plenty of exciting adventures to be had around Lee's Summit. Whether you're celebrating the luck of the Irish or preparing for gardening season, there's something for everyone!
March Events
Spring Open House
EVENT DATE: Friday, March 1 at 10:00 am – Saturday, March 2 at 5:00 pm
Downtown Lee's Summit
Our downtown area is perfect for a little outdoor shopping! Get ready for spring with new items from downtown stores and enter for a chance to win a shopping spree in our historic downtown district!
Raspberry Spring Expo
EVENT DATE: Friday, March 8, 11:00 am – 7:00 pm
Pavillion at John Knox Village
Pull out your spring project ideas and start planning for warmer weather! Explore handcrafted art, home decor, party ideas, and more with local artists and vendors. It's time to dust off those garden gloves and start planning your spring retreat!
Longview Community Center Pound Fitness Class
EVENT DATE: Friday, March 8, 6:30 – 7:30 pm
Blow off some steam and welcome the weekend by pounding some drums! This first-ever Pound class is a great way to challenge your body and soul with Pilates-inspired movement and exciting music. Sticks are provided and childcare is available.
Emerald Isle Parade (presented by Llywelyn's Pub)
EVENT DATE: Saturday, March 9, 12:00 pm – 3:00pm
Downtown Lee's Summit
St. Patrick's Day comes to Lee's Summit with this festive local parade! Wear your green and enjoy the floats, walking groups, Irish dancers, and fun music! Bring your kiddos a little early to participate in the Pot 'O Gold Hunt at 11:30 am. Afterward, grown-up lads and lasses can participate in the Pub Crawl!
Leprechaun Lane 5k/10k
EVENT DATE: Saturday, March 16, 8:00 – 10:00 am
Unity Village
Start your St. Patrick's weekend off with a festive marathon! Bodies Race Company's annual Leprechaun Lane is fun for the whole family and a great way to burn some calories before celebrating at the Kansas City St. Patrick's Day Parade on Sunday, March 17th!
Third-Annual History Trivia Contest
EVENT DATE: Friday, March 29, 6:00 – 10:00 pm
How well do you know Lee's Summit? Bring your own team of 8 or meet new people to join in a night of trivia and revelry. Topics will include World and U.S. History, as well as Lee's Summit History, Television History, "The 1970s," and more! Tickets are $35 for players, $20 for spectators, and there will be food, drink, and a silent auction! Get your tickets today!
Don't miss the exciting events going on in and around Lee's Summit! Call us today at (816) 295-7360 to learn more about our local services.