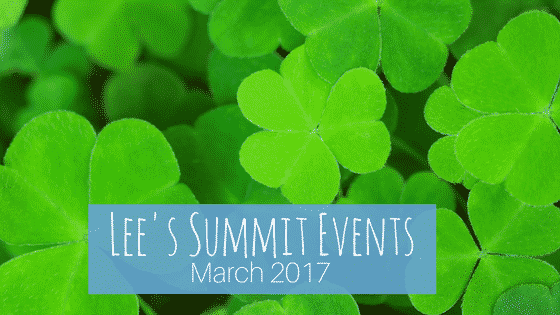 Are you looking for a couple of good outings to get your family and friends out of the house? Then look no further, these events are sure to kick-start your Spring thaw and keep you entertained through the summer.
Emerald Isle Parade
EVENT DATE: Saturday, March 11, 8 am- 1:30 pm
Downtown Lee's Summit
Get your green on and come celebrate St. Patrick's Day with Lee's Summit annual Emerald Isle Parade, presented by Llywelyn's Pub. Enjoy a parade full of floats, dancing, and music. Other activities will include a traditional Irish Breakfast for the whole family from 8- 11 am at Llywelyn's Pub (tickets at door.) Then, for children 8 and under, search for the Pot 'O Gold! The parade will start at noon, beginning on 8th Street, going north on Green Street, then west on 3rd Street and ending by heading up north on SE Main Street. A pub crawl organized by local bars will begin at 1:30 pm (after the parade) for those who have been excused from work for the day.
Fourth Fridays Art Walk
EVENT DATE: Friday, March 24, 5 pm- 8 pm
Downtown Lee's Summit
Fourth Fridays Art Walk is back for an exciting 2017 season! Every fourth Friday from March to August, the Downtown area will be packed with a fun variety of activities like artist showcases, music at Howard Station Park, street theater, Yoga in the Streets, and so much more. Get your family and friends together for a fun night once a month.
March: Makers in March
April: Art in Our Schools & Alley Kick-Off
May: Music in May
June: Art for a Cause & Cocktail Crawl
July: July for Guys
August: Art in the Alleys
Summit Skin & Vein Care is proud to be a part of this passionate, exciting community. To learn more about our services in Lee's Summit, call us today at (816) 295-7360.