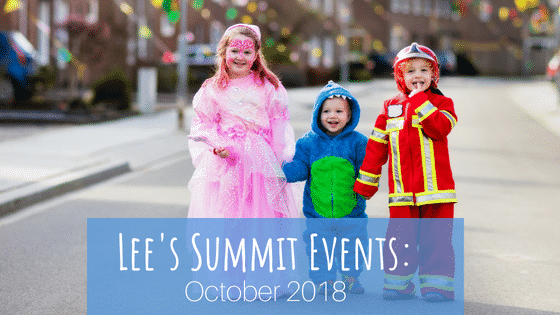 Everyone looks forward to October because of Halloween candy, but Lee's Summit has exciting events going on all month! Venture out into our community to check out some of the fun going on this month.

October Events
Harvest Fest at the Farmers Market
EVENT DATE: Saturday, October 6, 7:00 AM – 1:00 PM
Downtown Lee's Summit Farmer's Market
What's better than live music and a farmer's market on a Saturday morning in the fall? Wander around the farmer's market to find baked goods, fresh produce, homemade crafts, and more! It's free for all, and the first 100 kids get to participate in free pumpkin decorating!
Middle School Teen Night
EVENT DATE: Friday, October 12, 7:00 PM – 10:00 PM
Your middle schooler will love this evening of spooky fun! This safe night for teens is coordinated by Lee's Summit CARES. For just $25, your teen can participate in the Zombie Attack Laser Hayride and get a Fun Card for additional events that evening. Your kid will get to socialize with their friends, and you can feel confident that they are safe!
Haunted Maze
EVENT DATE: Friday, October 19th, 20th, 26th, & 27th, 7:00 PM – 10:00 PM
It's haunted maze season! You can enjoy our very own maze for two weekends in a row! Maze-goers are encouraged to wear their favorite Halloween costumes and take a fun hayride! Tickets are $5 per person, and children 3 years and younger get in free!
Haunted & Historic Spaces Tour
EVENT DATE: Saturday, October 20th, 6:00 PM – 10:00 PM
Downtown Lee's Summit
Who would have guessed that Lee's Summit came with its own ghost stories? This event starts with a wine reception and ends with a tour of the more historic (and haunted!) spaces in Lee's Summit! Book your spot with Ashley today! Give her a call at ashley@downtownls.org or call (816) 246-6598.
Boos, Barks, & Badges Halloween Parade
EVENT DATE: Saturday, October 27th, all day
Downtown Lee's Summit
Parents, kids, and pups are welcome for this festive Halloween parade! Make sure all family members, especially the furry ones, are dressed up for the costume parade. You may win an award for best costume! Afterward, your kiddos can trick or treat at participating businesses downtown.
Summit Skin & Vein Care is looking forward to these fall festivities! Enjoy the exciting opportunities our community has to offer. Call us today at (816) 295-7360 to learn more about our services.