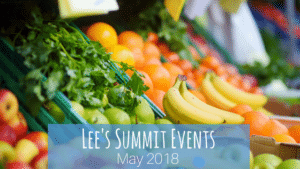 May Events
Spring has sprung! Here are some of the amazing events going on in the Lee's Summit community this May.
Cinco De Symphony: Celebrating Cultures
EVENT DATE: Saturday, May 5, 5:30 pm pre-concert activities; 7 pm concert start
Lee's Summit High School Performing Arts Center
Lee's Summit Symphony celebrates the end of their 15th season with an exciting celebration that will be fun for the entire family. This showcase of different cultures will start with pre-concert activities for kids at 5:30. Reserve your tickets today!
Community Blood Drive
EVENT DATE: Monday, May 7, 11 am – 4 pm
Lee's Summit City Hall – Howard Conference Room
Donate blood and save a life! The City of Lee's Summit is partnering with the Community Blood Center, the Lee's Summit Fire Department, and the Lee's Summit Police Department to allow members of the community to give back to local hospitals and save lives. Walk-up donations are welcome, but you are encouraged to visit the registration page and enter the code "cityleessummit" to sign-up.
Farmers Market Spring Celebration
EVENT DATE: Saturday, May 12, 7 am – 1 pm
Downtown Lee's Summit Farmers Market
The perfect outing for Mom on the day before Mother's Day! Treat your mother to a lovely morning filled with live music and local market goods from your community. There will also be crafting opportunities to make a handmade gift any mother would love! No registration required, and kids of all ages are welcome.
Celebration of the Arts
EVENT DATE: Friday, May 18, 6:30 pm – 10 pm
Lee's Summit is filled with talented cultural arts groups, and this is your chance to see them all! Entertainment for the evening will be provided by a local dance studio, theatre troupe, kids rock band, acapella ensemble, and the Lee's Summit R-7 Orchestra. Enjoy an exciting fireworks display at the end of the evening! This is a free event, perfect for an impromptu date night or an evening out with the family.
Summit Skin & Vein Care is proud to be a part of this passionate, exciting community. To learn more about our services in Lee's Summit, call us today at (816) 295-7360.