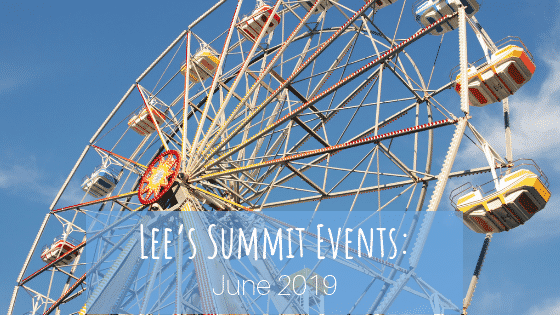 The kids are home for the summer and the weather is getting warmer! Check out the hottest events going on in Lee's Summit this June:
June Events
Downtown Days Festival
EVENT DATE: Friday, June 7th to Sunday, June 9th
Kick off summer with the FREE Downtown Days Festival, presented by Lee's Summit Medical Center, Friday through Sunday, June 7, 8 & 9. Live entertainment, carnival rides, sports & autograph booth, festival food, handcrafted goods, and two beer tents featuring craft beer!
Cocktails & Constellations
EVENT DATE: Friday, June 7th from 8:30 p.m. to 10:30 p.m.
Join us for an evening of stargazing and grazing in the garden that features the expertise of Kansas City Skyentist Patrick Hess. This event features an exploration of the night sky with moon showers, planets, and a cocktail class by Till Vodka, a Kansas farm-to-cocktail purveyor, and Boozy Botanicals, a KC-based organic cocktail mixer featuring herbs, flowers, and other herbal essences.
Lee's Summit Farmers Market 2019
EVENT DATE: Every Wednesday & Saturday from 7 a.m. to sell-out
Get the freshest produce in town by visiting the Downtown Lee's Summit Farmers Market, located at the corner of Second and Douglas streets in Downtown Lee's Summit. The Market is open from 7 a.m. to sell-out Wednesdays and Saturdays.
Coldwater's Drive Out Hunger 2019 Golf Tournament
EVENT DATE: Monday, June 3rd from 10:00 a.m. to 6:00 p.m.
Don't let the snow, ice and cold temperatures fool you! It's time to register for the Coldwater Drive Out Hunger golf tournament. Bring some friends and introduce them to your Coldwater friends and a great cause that helps feed hungry children.
Father's Day Week
EVENT DATE: Sunday, June 9th through Sunday, June 16th from 9:30 a.m. to 10:00 p.m.
Treat Dad to a play day with the whole family at Paradise Park. All week long kids can handmake art projects for Dad and Grandpa in the discovery play art studio. Make a gift "and a memory" that will last a lifetime. On Father's Day (Sunday), Dad gets a FREE Adventure Day pass with the purchase of any Adventure Day pass for the kids or grandkids in your family!
Hope House Superhero 0.5K – Marvel vs DC
EVENT DATE: Saturday, June 15th from 3:00 p.m. to 8:00 p.m.
Calling all underachievers!  Walk, run, crawl or FLY! A 0.5K "Run" followed by games, music, drinks and more! Wear your favorite Superhero attire.
Summit Skin & Vein Care is proud to be a part of this passionate, exciting community. To learn more about our services in Lee's Summit, call us today at (816) 295-7360.