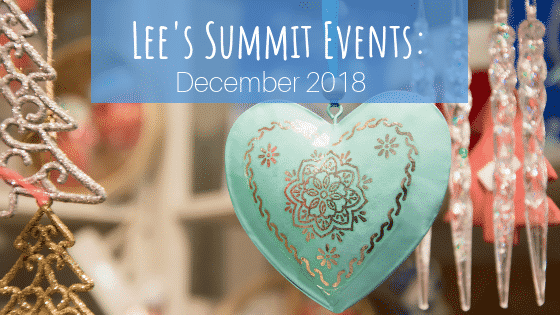 It's the most magical time of the year! We've already seen a little snow in Kansas City, and that's just the start of the holiday spirit. Whether you're looking for a fun winter date or you need to get a little holiday shopping done, Lee's Summit has plenty of options for you this month!
December Events
Ginormous Gingerbread House Party
EVENT DATE: Saturday, December 1, 2018 – Saturday, January 5, 2019
Have you ever wondered what it would feel like to be a gingerbread man? Paradise Park has just what you're looking for with their larger-than-life gingerbread house! Throughout December, you can check out this sweet gingerbread house and make enchanting memories that will stay strong through the holiday season.
4th Annual 12ish Bars of Christmas
EVENT DATE: Saturday, December 8, 2:00 pm – 10:00 pm
Downtown Lee's Summit
Drop the kids off at Grandma's house to support a good cause with a pub crawl! This is the fourth year of 12ish Bars of Christmas, where adventurous holiday hooligans can raise money to support Hope House! Make sure you sign up before it's too late! All necessary details and information about tickets can be found on their Facebook page.
Farmer's Market Holiday Mart
EVENT DATE: Saturday, December 15, 9:00 am – 2:00 pm
Lee's Summit Elementary School Gym
Celebrate this time of community and giving by supporting local farmers at this festive Holiday Mart! All of your favorites from the regular farmer's market will be in attendance and you may happen upon a few exciting surprises! What better way to finish up your shopping than by stopping by and supporting local entrepreneurs!
New Year's Eve Party
EVENT DATE: Monday, December 31, 12:00 pm – 6:00 pm
Paradise Park
New Year's Eve on a Monday might not sound very exciting, but you'll find plenty of excitement at this family-friendly gathering! Bring the kids and ring in the New Year a little early with the Ball Drop at the Foam Factory. You can win 2019 door prizes for Paradise Park and your kids will love that they get to celebrate with you!
Summit Skin & Vein Care is proud to be part of this festive community! Enjoy the exciting events going on in our city. Call us today at (816) 295-7360 to learn more about our local services.