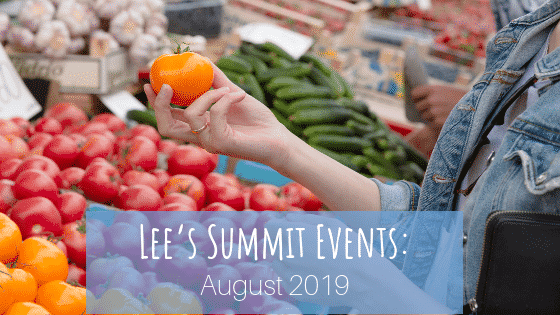 We're coming up on fall but there's still plenty to do in the last sunny days of summer. If you're looking for fun for the whole family or a cute idea for date night, Lee's Summit has it all – explore all our community has to offer this August!

August Events
Music in the Park
EVENT DATE: Every Friday night from 6:30 p.m. to 9:00 p.m. until Labor Day
Enjoy the free summer concert series in Howard Station Park while you still can! Soak in the sunshine and some beautiful music in the last glorious days of summer.
Downtown Lee's Summit Farmer's Market
EVENT DATE: Wednesdays and Saturdays from 7:00 a.m. to 1:00 p.m.
Stock up on fresh produce and locally made goods at the Farmer's Market presented by Saint Luke's East Hospital. More than 50 vendors gather in the mornings and early afternoon to offer the best of Lee's Summit for her residents.
Butterfly Tour in the Field
EVENT DATE: Sunday, August 11th from 10:00 a.m. to 11:30 a.m.
Feel like a kid again and go exploring for butterflies with botanist Brett Budach! He will help explorers locate and identify native butterfly and caterpillar species in the beautiful Powell Gardens. Sign up today to secure your spot.
Crank Out Hunger Bike Ride
EVENT DATE: Saturday, August 17th from 7:00 a.m. to 12:00 p.m.
Start at Volkswagen of Lee's Summit and ride either 25, 56, or 85 miles around Lee's Summit. Enjoy lunch after your ride starting at 10:30 a.m.
Missouri Barn Beer Dinner
EVENT DATE: Sunday, August 18th from 5:00 p.m. to 9:00 p.m.
Enjoy a delicious farm to table meal prepared by Chef Michael Foust. Start the evening off with cocktails and a chat about farm to table living, then a dinner of Powell Gardens vegetables and local meat. Tickets are $75.00 and Powell Gardens members get 10% off! The evening caps at 50 guests, so book as soon as you can.
Fall Open House
EVENT DATE: Friday, August 23rd at 10:00 a.m. to Saturday, August 24th at 5:00 p.m.
Who's ready for fall? We are! Stop by the fall open house in Downtown Lee's Summit to see new items featured by local merchants for Fall 2019.
Lee's Summit's community offers something for everyone and we're proud to be involved! To learn more about Summit Skin & Vein Care's services in Lee's Summit, call us today at (816) 295-7360.