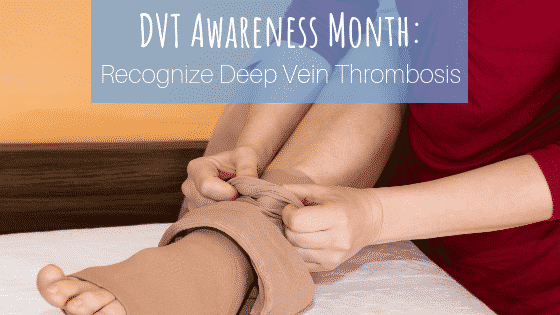 Deep Vein Thrombosis (DVT) impacts an astonishing number of people each year. While the exact number of cases is unknown, the CDC estimates that around 900,000 people experience symptoms of DVT every year. Patients develop DVT when a blood clot, called a thrombus, forms in a large vein, usually in the leg. This can lead to partial or completely blocked circulation and can be dangerous for some. Different issues can cause DVT; it's important to recognize the symptoms and are familiar with risk factors to see if DVT could be an issue in your life.

March is DVT Awareness Month
There are many different factors that could cause someone to develop a thrombus in their leg. As we've discussed before, vein issues are not just limited to a certain age or stage in life. Contact our vein specialists today for a free vein screening if you have any of the following risk factors:
Recent hospitalization
Surgery and trauma
Paralysis or immobility
Increased estrogen due to

Birth control methods
Recent pregnancy
Hormone therapy

Previous blood clot
Family history
Clotting disorders
Obesity
Older age
Smoking cigarettes
If left unrecognized, the blood clot could result in pulmonary embolism, which occurs when the blood clot breaks free from the vein and moves to the lungs. The U.S. has a higher mortality rate from pulmonary embolisms than from breast cancer and AIDS deaths combined. This is why it's so critical to promote awareness of this condition and encourage anyone who may be at risk to regularly get their veins checked.
Recognizing the Symptoms of DVT
Only around half of all people with DVT show any sign of having the disease. Symptoms of DVT can include:
Swollen legs or a swollen vein in the leg
Pain or tenderness in the leg
Increased warmth around leg swelling or pain
Red or discolored skin on the leg
Compression stockings and vein treatment are two popular treatment methods for anyone suffering from DVT. Compression stockings help encourage blood flow and keep the blood circulating through your system. An active lifestyle can also help keep your blood moving and reduce the risk of blood clots. The most important thing you can do is to get a professional opinion if you're concerned about your risk of developing DVT. Consult a vein specialist, like the experts at Summit Skin & Vein Care as soon as possible with your questions and concerns.