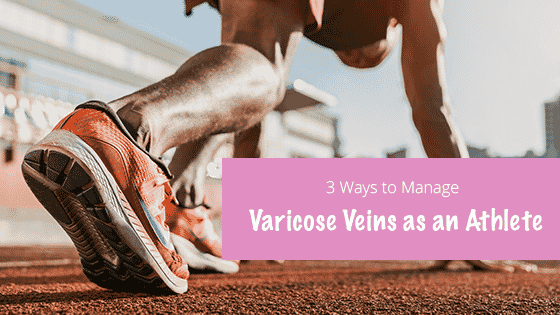 Varicose veins are a common problem for athletes. The constant pressure on the veins caused by running and jumping can lead to varicose veins in the legs. If left untreated, varicose veins can cause pain and swelling in the legs. Let's look at three ways that athletes can manage varicose veins with an active lifestyle.

3 Ways to Manage Varicose Veins as an Athlete
Being an athlete means being on your feet a lot. Unfortunately, this can also lead to varicose veins in the legs. If left untreated, varicose veins can cause pain and swelling in the legs. Luckily, there are a few different ways that athletes can help their veins to prevent or treat varicose veins.
Know Your Risk
Whether you're an athlete with a family history of vein disease or you know that you're at a higher risk for varicose veins, there are steps to reduce the chance of varicose veins affecting your training. Wearing compression stockings during a workout and elevating your legs post-exercise can help minimize the risk of varicose veins after you work out.
One great option is wearing compression stockings any time you participate in any activity to maximize blood flow all day long. This could mean needing less recovery time between any runs, walks, workouts, etc.
Take Breaks When Needed
If you're worried about the risk of varicose veins or are plagued by varicose veins currently, switching up your current training plan can help with improving circulation. Give your legs a break with low-impact days and stimulate circulation in your muscles, especially your calf muscles, when you can. Swimming exercises are great for your veins because you can exercise without worrying about gravity pulling on the blood in your veins.
Consult with Your Doctor
The best thing you can do for your veins is to consult with your doctor. Getting help from a vein specialist can offer solutions for vein problems, including varicose veins, spider veins, and reticular veins. A vein specialist will help you understand what's causing your varicose veins and which treatment option is best for you in the long run.
There's no better solution for varicose veins than consulting a vein specialist. If you're an athlete developing varicose veins, it's time to give Summit Skin & Vein Care a call. Contact us today to set up a FREE color duplex ultrasound scan! Our specialists will be happy to discuss your varicose vein treatment options with you.