If you have varicose veins, your vein specialist will probably suggest a treatment plan like sclerotherapy or endovenous laser treatment to remedy the situation before it leads to further discomfort or more serious vein complications.
As with any other medical treatment, it's good for you to understand the basics of endovenous laser treatment before undergoing it yourself.
What is Endovenous Laser Treatment?
Endovenous laser treatment is a method of treating varicose veins that involves inserting an optical fiber into the vein to be treated. During the procedure, a catheter bearing an infrared laser fiber is passed through into a vein, usually the great saphenous vein or small saphenous vein, the two veins where reflux occurs and causes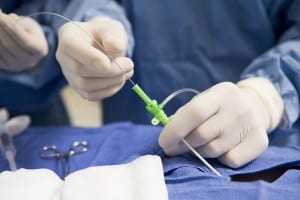 varicose veins. The doctor monitors the vein using ultrasound and maneuvers the catheter and fiber to the groin or knee crease depending on the location of the varicose veins. As the catheter enters the vein's interior, it starts to contract.
Before the endovenous laser treatment continues, local anesthesia is injected around the vein. Then, the laser is activated as the doctor gradually withdraws the catheter. The light pulses cause the vein to contract and then close, concluding the endovenous laser treatment.
There are several types of lasers with various wavelengths used in endovenous laser treatment. The treatment aims to maximize damage to the varicose vein while avoiding damage to adjacent tissues; by adjusting the wavelengths used in endovenous laser treatment, vein specialists can better target the veins in question.
Recovery Steps: Endovenous Laser Treatment
Endovenous laser treatment is a quick procedure, and patients can return to their regular activities right after it is concluded. Usually, they are required to wear bandages or graduated compression stockings for seven days after the procedure.
Your vein specialist will follow up with an ultrasound to monitor the effectiveness of your endovenous laser treatment and determine whether additional procedures are necessary.
Benefits to Endovenous Laser Treatment vs. Vein Stripping
Before 1999, abnormal saphenous veins were treated with vein stripping, a very involved procedure with a long recovery time. Endovenous laser treatment is a much less invasive process compared to vein stripping. Other benefits include:
Causes less pain

Leaves no visible scars

Due to the short procedure time (1-2 hours), patients can return to normal activity right away

Uses only local anesthesia, so it can be done in an office setting

Costs less
Endovenous Laser Treatments in Kansas City
If you have varicose veins and are seeking treatment in the Kansas City area, consider Summit Skin & Vein Care in Lee's Summit, MO. We'll conduct a free vein screening before your physical examination to more accurately assess the extent of your varicose veins, as well as to create the best treatment plan, which could include endovenous laser treatment. Contact Summit Skin & Vein Care at  (816) 533-4398 today for more information or to schedule an appointment.