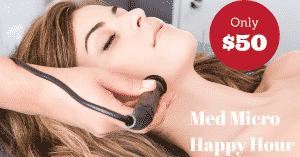 Thursdays from 1-2 pm for the Month of June.
Schedule a medical microdermabrasion for any Thursday from 1-2 pm in the month of June and it will only cost you $50. This service normally costs $160. Call (816) 533-4398 or use the contact form to the right to schedule an appointment. There are a limited number of slots and they will fill up quickly.
What is a Med Micro?
Medical microdermabrasion combines a physician strength chemical peel with a crystal-free microdermabrasion to give you a smoother healthier skin you will love.
Read more about a medical microdermabrasion here.