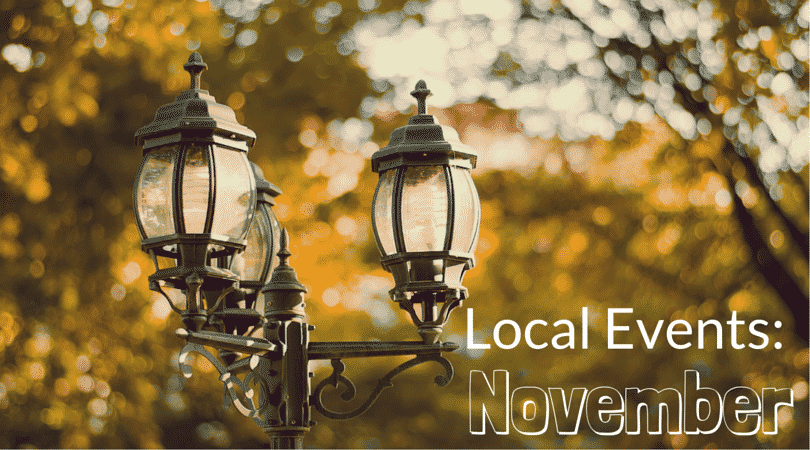 Fall is a beautiful time of year in Lee's Summit. Walking around downtown enjoying the changing colors on the trees while drinking hot coffee, or enjoying lunch at one of Lee's Summit's many local restaurant options, are some of our favorite things to do this time of year. But, if you're looking for something extra special to do in Lee's Summit this month, look no further. Here are some local events sure to get you excited about November in Lee's Summit.
Holiday Open House
It's that time of year again–time to get ready for the upcoming holidays and find the perfect gifts for all of your loved ones. This year's Downtown Lee's Summit Holiday Open House features a variety of wonderful gift options and decorations from many of the local merchants. There will also be special classes taught by several participating vendors. Enjoy walking around downtown, viewing the start of holiday decorations, and browsing through the shops for gifts. You can also enter to win a Downtown Lee's Summit shopping spree! The Holiday Open House takes place on Main Street November 6 – 8.
Mayor's Tree Lighting
Join the Mayor of Lee's Summit for the beloved annual tree lighting event! Start off the holiday season in Downtown Lee's Summit by seeing the holiday decorations come to life. Also enjoy free hot cider and cookies will viewing the beautiful lighting and decorations. This is an event for the whole family to enjoy, as rumor has it that Santa Claus himself, along with Mrs. Claus and some of their elves, will be in attendance. This is another great opportunity to shop around downtown and enjoy dinner at one of Lee's Summit's local restaurants. The Mayor's Tree Lighting event will be held November 20, from 6:30 pm to 8:30 pm.
Holly Festival Craft Fair
The Holly Festival Craft fair will be fun for you, and good for the community! It will be held as a benefit for the Lee's Summit Drug Abuse Resistance Education (DARE) program to encourage drug-free and healthy lifestyles. The Holly Festival Craft Fair will host more than 80 craft booths–the perfect place to find some unique holiday gifts for friends and family. There will also be a concession stand and a bake shop for some delicious pick-me-ups while you shop. Don't forget to enter to win one of the fun door prizes! The Holly Festival will be held on November 14, from 10 am to 5 pm, and admission is free.
A Lee's Summit November
We hope you enjoy checking out these wonderful local events during the next month, and all that the Lee's Summit community has to offer. For more information about Summit Skin & Vein Care and our services, call (816) 291-3790.