A Lee's Summit "Staycation"
If you're wondering what to do in Lee's Summit this summer, look no further: we're rounding up the best events and activities going on this July that anyone in our community can enjoy. You don't have to leave town to take advantage of summer fun–instead, try a "staycation" right here in Lee's Summit.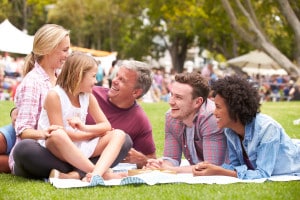 Summer Sidewalk Sale (July 18, 10 a.m.-5 p.m., Downtown Lee's Summit) – Downtown businesses participating in this summer's highly-anticipated sidewalk sale will offer many of their quality items at reduced prices. You can take advantage of these fabulous summer savings and see what our Downtown Lee's Summit merchants have to offer. Plus, you'll be supporting local businesses!
Christmas in July (July 22, 7 a.m.-12 p.m., Farmers Market) – That's right, Santa himself will be at the Farmer's Market this month in his "summer suit" available to take pictures with kids. Market attendees can also enter to win a Farmers Market gift basket, all while shopping for the farmers' wonderful fresh produce, baked goods, and handmade crafts. This event is fun for the whole family.
Fourth Fridays (July 24, 5 p.m.-9 p.m., Downtown Lee's Summit) – Explore all the art, music, and theater events that our lovely downtown has to offer. Browse through participating businesses to check out all the talented artisans and take the opportunity to treat yourself to one of the many great downtown restaurants.
Nature Connects 2 (May 2-September 7, Powell Gardens, Kingsville) – The innovative LEGO brick artist Sean Kenney is displaying his new set of sculptures in Powell Gardens. Some may remember the incredible exhibit presented in 2013, and the new sculptures are even more colorful and intricate, depicting the wondrous networks of nature. Now through September you can visit to see 27 sculptures made from nearly 300,000 LEGO bricks. Set in 14 scenes, these sculptures display the complex network that makes our planet work.
Family Fun Night (July 20 8:30-10:30 p.m., Summit Waves) – Take your kids to the Lee's Summit

family aquatic center, Summit Waves,

for Family Fun Night this month. Featuring fun games, giveaways, a DJ, and concessions, this event is sure to have something for the whole family.
Summit Skin & Vein Care July Specials – Looking to pamper yourself this summer? The fabulous July specials at Summit Skin & Vein Care are just what you have been looking for. You'll get quality services, like laser hair removal or an IPL face treatment, at a reduced cost. For more information about the specials, call (816) 533-4398.
If these fun Lee's Summit events haven't convinced you that a "staycation" is just what you need this summer, we don't know what will! Which event will you be participating in this summer? Comment below!