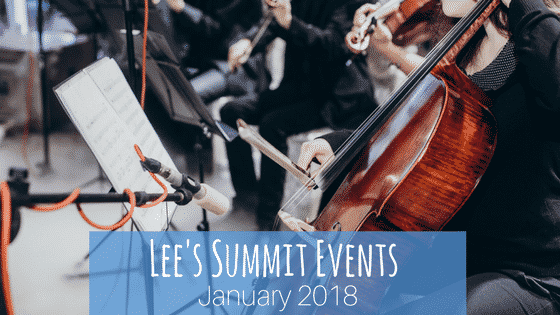 Happy new year, everybody! There is a lot going on in Lee's Summit and the surrounding communities this January — don't forget to bundle up!
January 2018 Events
Chapel Concert Series
EVENT DATE: January 7th, 5 pm
Amorosa, a quartet consisting of a flute, violin, viola, and cello was founded in 2012 by members of the Lee's Summit Symphony Orchestra. Amorosa performs an eclectic variety of works ranging from beautiful classical selections from Bach and Mozart to more contemporary pieces by Led Zepplin and Lady Gaga.
Lemon Mixer
EVENT DATE: January 12th, 7-10 pm
Alex's Lemonade Stand Foundation hosts the annual Lemon Mixer, a night of great food, signature drinks, and music from Travis Marvin. Proceeds will benefit childhood cancer research through ALSF. The VIP party is hosted by Action 41 news anchor Christa Dubill. For more information or to purchase tickets, visit AlexsLemonade.org/LemonMixer.
Prince & Princess Breakfast & Party
EVENT DATE: Saturday, January 20th, 9-10 am; 11 am- 2 pm
Paradise Park
This magical breakfast includes a kid-friendly breakfast, meet and mingle with prince and princesses, photos, autographs, a costume contest, giveaways, and an all-day Discovery Play & Foam Factory admission. This event is $7 for members and $16 for non-members.
Dress up for an enchanted party full of giveaways, photos, and fun all day at the meet and greet event. This is a free event.
Wassail Celebration
EVENT DATE: Saturday, January 20th, 5-9 pm
Powell Gardens
The sixth annual Wassail Celebration and Feast is a special dinner, prepared by chef Ken Knight. Powell Gardens' own Barb the Gardener will provide a history of the wassail tradition, a celebratory ceremony in the apple orchard. There will also be live music, alcoholic and nonalcoholic wassail beverages, and a buffet-style dinner.
Lee's Summit Parks & Rec Father Daughter Dance
EVENT DATE: January 26th & 27th, 6-9 pm
A night for girls ages 3-12 to have a fun night of bonding with their fathers, stepfathers, and grandfathers. Lee's Summit residents may register for $25 per person. Fee includes dinner, dancing, 5″x 7″ commemorative photo, rose, and a small gift for each girl.
Summit Skin & Vein Care is proud to be a part of this passionate, exciting community. To learn more about our services in Lee's Summit, call us today at (816) 295-7360.