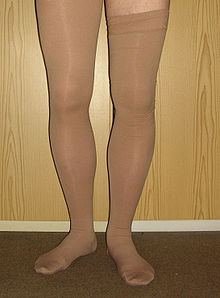 Summit Skin & Vein Care of Lee's Summit, Missouri, greatly values the important role compression stockings play in the medical field. They can help with a number of vein-related health complications, making this tool invaluable for those who suffer from a number of medical conditions, including diabetes, lymphedema and varicose veins.
To help you understand how compression stockings can help improve your quality of life, we have provided details about how this medical garment can be utilized in improving the overall health of many individuals.
What Are Compression Stockings?
Compression stockings are specialized hosiery worn on the legs in an effort to compress the body's limbs. This significant pressure against the legs reduces the diameter of enlarged veins, causing an increase in venous blood flow rate and valve effectiveness. By compressing the surface veins, arteries, and muscles, the blood is forced through narrower circulatory channels. Compression therapy helps decrease venous pressure, which can help with venous stasis and impairments of venous walls to reduce the feeling of heavy, aching legs.
Call  (816) 533-4398 to talk to our friendly team about compression stockings or read on.
More Benefits:
● Reduced Swelling
Just as the name suggests, compression stockings compress the surface area of the leg. Because of this, swelling caused by vein conditions is limited, which helps reduce a lot of pain individuals may otherwise experience. Compression stockings are especially ideal for those who stand for long periods of time.
● Warmth
Although compression stockings are more than your average pair of tights or hose, they still perform many of the same functions like skin coverage and — more importantly — warmth. When it is cold outside, you can slip on your compression stockings, receiving the medical benefits without missing out on the warmth that other stockings provide.
What Makes Our Compression Stockings Different?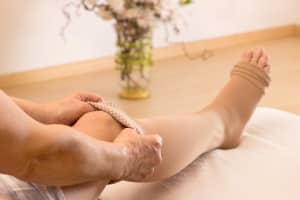 Compression stockings use stronger elastics than the traditional dress or athletic stockings and socks someone might wear. Our Lee's Summit, MO, office uses gradient compression stockings that are tightest at the ankles and gradually become less constrictive towards the knees and thighs.
The result?
Improved quality of life is the biggest difference that gradient compression stockings can make in your life. People who otherwise suffer from vein-related pain, discomfort, and cosmetic complications can experience less pain and issues on a day-to-day basis, which has the potential to make a big impact in the lives of these individuals.
Act Now to Improve Your Comfort
If you believe you could benefit from the integration of compression stockings in your wardrobe, look no further than Summit Skin & Vein Care of Lee's Summit, Missouri. Here, our high-quality, effective compression stockings can bring you the comfort and support you need.
Get the facts about whether compression stocking are right for you by calling Summit Skin & Vein Care of Lee's Summit, MO, at (816) 533-4398.
Proudly serving Lee's Summit, Kansas City, Raytown, Independence, Blue Springs, Harrisonville, Warrensburg, Clinton, MO, and their surrounding areas.