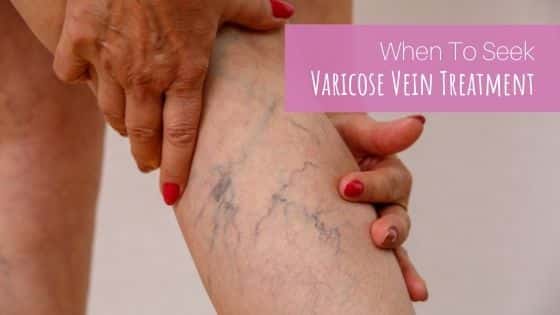 While for some people, varicose veins are a cosmetic nuisance, others have to deal with throbbing pain that can distract from daily activities. Varicose veins are caused when vein valves become damaged or weakened. These failing vein valves prevent blood from efficiently returning to the heart, causing blood to accumulate in the vein and eventually resulting in the vein's enlargement. 
Sometimes the pain can be manageable, through daily maintenance such as elevating your legs, regular exercise, and eating healthy. However, sometimes this isn't enough and can feel like it's hindering your life. It's important to know when you should seek treatment for your varicose veins.
Are Your Varicose Veins Painful?
If your varicose veins are causing you to feel pain or discomfort, it may be time to consider getting treated. 
Summit Skin and Vein suggests that you come in for a free vein screening if you see any of the following symptoms:
Swelling

Aching

Itching

Burning

Numbness

Cramping

Discoloration

Healed Sores

Unhealed Sores
By treating your varicose veins, you'll be able to reduce or eliminate your symptoms. Summit Skin & Vein Care offers minimally invasive treatments that will help you back on your feet in no time.
You Don't Have To Be In Pain To Receive Treatment
Just because you don't suffer from pain or discomfort from your varicose veins, doesn't mean you can't also get treatment. Many consider getting treatments to take care of their varicose veins for cosmetic reasons to help with their self-esteem and confidence. In addition, while it might be a tolerable condition now, getting a free vein screening before you exhibit any pain could help you tackle the problem sooner rather than later. 
Interested In A Free Vein Screening?
Summit Skin & Vein Care offers a customized varicose vein treatment based on each of our patients' needs. Call Summit Skin & Vein Care today at (816) 533-4398 for a free vein screening or to learn more about varicose vein treatments.