What's better than a good quality cup of coffee to start up your morning or brighten a long afternoon? These three local Lee's Summit coffee shops are bringing great coffee, conversation, and atmosphere to the local cafe scene. Get ready to caffeinate your day with a good old cup of Joe from one of these Lee's Summit standouts.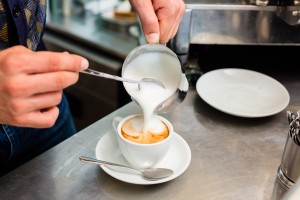 Whistle Stop Coffee Shop
Located in the heart of Downtown Lee's Summit, this local institution has operated since 1993. Along with delicious coffee, they serve a variety of pastries, along with a full breakfast and lunch menu. Since opening over 21 years ago, Whistle Stop has steadily gained a reputation as a friendly local cafe where friends can meet and relax. Their back deck offers extra seating and a pleasant atmosphere in the warmer months, while the inside features fun decor that stays true to the coffee shop's name, such as their railroad crossing sign. They offer an astounding variety of over 70 different coffee beans. Each month they feature drink specials, such as the Coconut Caramel Creme or the Earl Grey Chai Tea Frost. Fun breakfast menu items include favorites like The Terminator and the Saucy CJ. They even offer a homemade quiche! With food and drinks like those, this local cafe is sure to stay around for another 20+ years.

(227 SE Main St)
Gusto! Coffee Bistro
Gusto! Coffee lives up to its name by serving a unique and interesting menu catering to all kinds of preferences. Along with the classic coffee drink options, they offer up fun originals, like the Starry Starry Night and the Black Velvet. They serve interesting tea latte updates on the London Fog, like the Egypt Fog and the Tokyo Fog. Gusto! even caters to restricted diets with delicious gluten-free items. Beyond their delicious menu, they also provide customers with a wonderful atmosphere with their big windows and cozy fireplace. They also feature fun weekly events, such as live music performances. Their Carhop Club curbside service offers the convenience of major coffee chains while staying true the local vibe and high quality of a small town coffee shop. Plus they sell delicious Christopher Elbow chocolates! Its location across from Longview College makes it the perfect stop for students to grab a pick-me-up or do some studying.
(3390 SW Fascination Dr)
Post Coffee Company
Post Coffee is the newest addition to our favorites list. Since its establishment last year, this local cafe has gained a crowd of loyal regulars because of its dedication to quality. They take a no shortcuts approach by roasting and brewing the coffee beans themselves in-house, after sourcing it through direct trade from Costa Rica. Lee's Summit coffee-lovers appreciate this straightforward approach, as the result is some truly delicious and high-quality coffee. The decor features wood textures, welded iron, a cozy leather couch, a sleek brew bar. The glass garage doors that can be opened during pleasant weather add an extra dose of cool to the already sleek space. As far as we're concerned, this new addition is here to stay!
(200 NE Chipman Rd)
At Summit Skin and Vein Care, we love being a part of the Lee's Summit community. We are proud to feature our fellow local businesses on our blog. Call us today at (816) 533-4398 to learn more about our services.