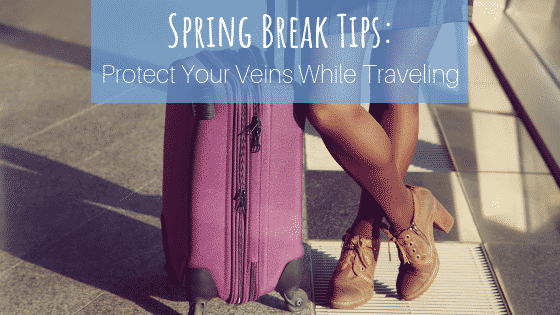 Spring break is right around the corner and many people love to escape the cold for warmer climates. However, if you suffer from vein problems, you could be in danger when you travel. Don't let varicose veins ruin your spring vacation – follow these steps to keep your veins healthy! 
Clear Skies with Varicose Veins
Traveling with varicose veins can come with a variety of challenges. Men and women who suffer from varicose veins should be cautious about developing deep vein thrombosis (DVT). Trips longer than four hours, especially in an airplane, can cause blood clots in the veins in your legs. Swelling, tenderness, and leg pain, particularly on one side, are all symptoms of DVT that can ruin any travel plans.
Steps for Safe Travels
You can help yourself stay relaxed and comfortable on any trip with some preparation. Your varicose veins will thank you if you take the time to prepare by:
Staying Hydrated
Avoiding alcohol and drinking a lot of water while you're traveling isn't just good for your head; it's good for your veins, too. Dehydration can narrow your vein walls and cause constipation, which also puts stress on your veins. You'll feel better at the end of your trip if you remember to stay hydrated.
Staying Mobile
This seems easier said than done depending on your transportation. A train or airplane trip might have more opportunities for you to get up and walk around, but you can do heel lifts in the car, too. Raise your heels up to engage your calf muscle and keep the blood pumping between your legs and your heart. This simple act goes a long way in preventing DVT while you're traveling.
Staying Comfortable
Dress in loose-fitting clothing that won't constrict you around the waist or legs. You don't want to trap blood around your abdomen and prevent it from moving between your legs and your heart. The only tight article of clothing you might consider should be compression stockings – they will help encourage blood flow without running the risk of cutting off vital pathways.
One of the best things you can do is make a plan with your doctor about the safest way to travel with varicose veins. Summit Skin & Vein Care in Lee's Summit, MO, can diagnose your venous problems and provide professional treatments to treat and diminish the appearance of varicose veins.