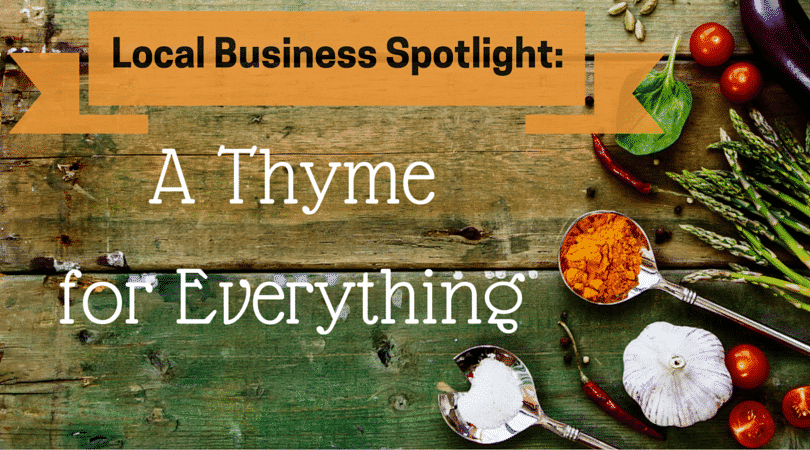 A Thyme for Everything is Lee's Summit's premiere kitchen supply shop. Located in historic downtown Lee's Summit, A Thyme for Everything opened in 2006. In opening this local kitchen supply store, owner Jet Pabst has said that she accomplished a long-time dream. This cooking shop truly is a local gem, even drawing customers from all over the Kansas City metro area. What makes this shop so special? Read on to find out.
A Thyme for Food, Fun, & Friends
Lee's Summit's favorite cooking supply store, A Thyme for Everything, offers a wide variety of gourmet cookware, chef's tools, decorating supplies, decor, and cookbooks. Each item has been picked out specifically with local customers in mind so that they can find whatever specialty kitchen item they need (or want!). If you love food, cooking, or decorating, then you are sure to adore this kitchen and cooking store.
Beyond selling cooking and kitchen supplies, A Thyme for Everything also carries delicious treats, like local Kansas City Christopher Elbow chocolates, soups, dips, baking mixes, herbs, and specialty pastas. Not much of a cook? This cooking supply shop is more than just a store. It also offers various cooking classes every month taught by true culinary chefs. Class instructors have a wide range of skills and diverse backgrounds, including Indonesian, Italian, French, and gluten-free. Classes range from sweet (cake decorating, cookies, and gingerbread house decorating) to savory (Mexican, sushi, French, and more). Around the holidays, they hold special classes for seasonal dishes that will help you construct your next Thanksgiving, Christmas, or Valentine's Day meal.
A Thyme to Support Local Businesses
At Summit Skin & Vein Care, we are proud to be a part of the Lee's Summit community. We love to support other local businesses and show others what Lee's Summit and the Greater Kansas City area have to offer. Call us at (816) 533-4398 to learn more about our skin and vein care services.