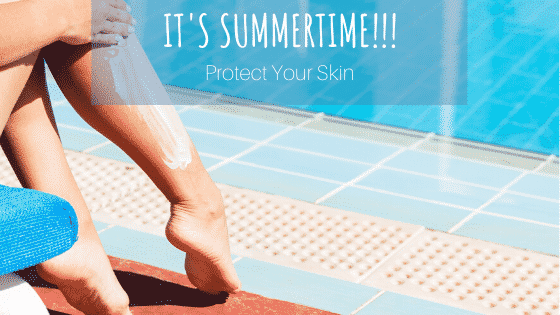 Who doesn't love spending time in the sun?! Planting or working in the garden, laying by the pool, or just hanging out outside with family and friends. We all love it! But the sun can cause so much damage to our skin. Our skin is the largest organ of our bodies so we MUST protect it. Here are some signs or symptoms of sun damage.

Sunburns
We've all had one we all know what it looks like and it's not a lot of fun! Overtime multiple sunburns can cause, dehydrated or "leathery" skin, deep wrinkles, clogged pores, brown spots, and in severe cases skin cancer.
Melasma or "the pregnancy mask"
This typically occurs in women during pregnancy or while on an oral hormone of some kind along with sun exposure. It's usually a large area of pigment and that's why it's referred to as a "mask".
Solar keratosis or actinic keratosis
These are usually small scaly or crust patches that can occurs on exposed areas. Typically on the hands, neck, face, and scalp. This specific type of sun damage should be treated right away as these are more likely to turn into skin cancers.
Prevention steps
Sunscreen
Make sure that you are using a sunscreen with zinc oxide or titanium dioxide. These are the best active ingredients in sunscreens with the best protection from UV exposure.  At Summit Skin and Vein Care, we offer Elta MD which provides great protection for your skin! Come in for a free sample. 
Hats
Wear large hats that cover your ears.
Serums
C&E Ferulic or Phloretin CF are two great daytime vitamin C serums that deliver advanced environmental protection and improve the appearance of fine lines and wrinkles, loss of firmness, and brightens the skin's complexion. Now clinically proven to reduce combined oxidative damage from free radicals.
Protective Clothing
If you are going to be out in the sun for a prolonged amount of time multiple times throughout the summer months you also should invest in some clothing that has UPF.
Free Consultation
We offer corrective treatments at Summit Skin & Vein Care to reverse some of the damage that you may have developed over the years. Give us a call at 816-533-4398 to schedule your free consultation to get you set up on a prevention and/or treatment regimen!