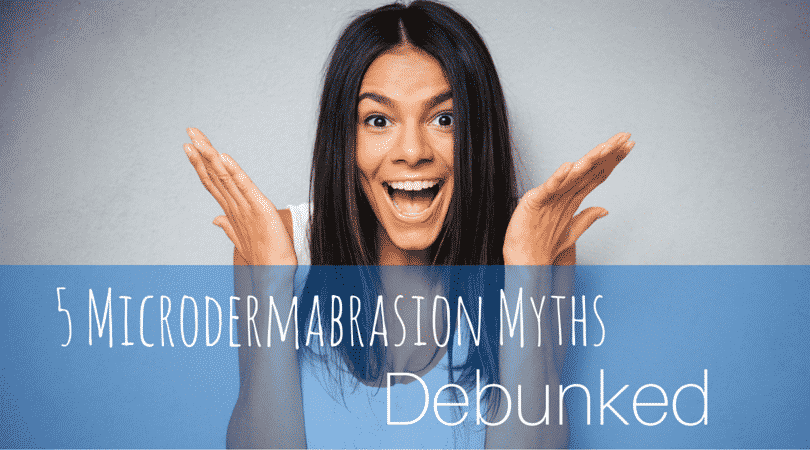 A microdermabrasion is a non-invasive skin treatment that works to exfoliate the skin. This exfoliation process can help smooth your skin's texture, reduce age and acne spots, and brighten your complexion. There are several different options of microdermabrasion, and many individuals see great results for their skin after treatments. However, there are quite a few myths floating around about microdermabrasion treatments, so it is important to differentiate fact from fiction so you know exactly what to expect from this skin treatment.
Myth 1: Microdermabrasion treatments are long and painful
Don't be fooled into thinking that a microdermabrasion is a scary, painful treatment! You'll most likely be in and out within about 30 minutes, and there is no recovery time because it's a non-invasive procedure. A microdermabrasion is truly nothing to be scared of!
Myth 2: At-home kits can get you the same results
While walking through any beauty aisle you'll likely see shelves of at-home skin treatments that claim to have all the amazing results of a microdermabrasion for a fraction of the price. Unfortunately, what sounds too good to be true usually is. These at-home treatments just can't match the results of a professionally applied microdermabrasion. While they may have some effect on your skin, they do not have the same abilities to reduce fine lines and dark spots and even out your complexion. Rather than wasting money on an at-home treatment, you should talk to the professionals about getting a real microdermabrasion.
Myth 3: Microdermabrasion is dangerous
Microdermabrasion is a non-invasive procedure with no needles, knives or harmful chemicals. The fact is, this is a very safe procedure that most people can undergo without any harm. The risk of infection is very low – much lower than with invasive procedures. Additionally, microdermabrasion treatments, like DiamondTome™, that are crystal-free are less likely to leave particles around the nose, eyes and mouth that some people worry are harmful to the skin.
Myth 4: To see results, you should get exactly this many treatments
Everyone's skin reacts differently to a microdermabrasion. There isn't a magic number of treatments that will get you the results you want. You might see great results for your skin immediately after the first treatment, or you may need to have several treatments over a period of a few months to get your best results.
Myth 5: A microdermabrasion isn't worth the money
If you are serious about improving the look and feel of your skin, the results you can get from a microdermabrasion are well worth the cost. If you just get one microdermabrasion treatment and see results, you'll just pay a one-time fee for long-lasting results. Additionally, since a microdermabrasion is a non-invasive outpatient procedure, it is much less expensive than many other more invasive skin treatments.
Ready to learn more about how a microdermabrasion can improve your skin? Call Summit Skin & Vein Care in Lee's Summit today at (816) 286-4062.